How to get out of debt with the debt snowball method. Let's turn your debt into a snowball! The debt snowball method is the best way to say good-bye to all of that debt, once and for all! 
Be sure to pin this on Pinterest for future reference and to share with your friends! 
(This post may contain affiliate links. For more information, please see my disclosure.)
The first time I ever heard that term was many years ago when reading Dave Ramsey's book, The Total Money Makeover. I read this book over 10 years ago. Can I admit something right now? This book made a huge impression on my life, but we kept accumulating debt. I always thought, well ours is not as bad as other's total debt load. If I had only buckled down 10 years ago…We would be debt free!
Debt
Did you know that 49% of Americans live paycheck to paycheck? Why? In this day and age of instant gratification, that is the first thing that comes to mind. This needs to stop. We need to have a plan for all of our money before it even hits our bank accounts. 
We live week to week occasionally still. I don't know about you, but living that way is extremely stressful. I mean, I cannot stand it. I want it to end. I want to stop saying NO to my children all the time. I feel like a slave to the lender. Do you have any of those thoughts and feelings? It's hard to admit it sometimes. Trying to live like everyone else can get hard and stressful. Why do we do that to ourselves?
Debt has such a stranglehold over so many of us. Debt can be so consuming that we cannot enjoy other parts of our lives. We do not have to live this way. Debt does not have to be normal. Let's start that journey to becoming debt free!
Can you imagine being debt free? What will your life look like? Will you be able to travel more? Fully fund your retirement account? Fund your child's college education? Pay off the house? Live stress free?
Related Post: What are Dave Ramsey's 7 Steps to Financial Peace .
Snowball Debt
So what exactly does snowballing debt mean?  You list your all of your debts in order from smallest amount owed to largest. You make minimum payments to all other debts except the first one listed. On that debt, you throw everything penny that you can at it until it is paid. Then you take that payment amount and throw it at the next debt listed. That is how your snowball begins to roll.
When listing all of your debts, you need to know the interest rate, balance, minimum payment. When you plug these into a program like Undebt,it, you will see how long it will take you to pay off each item. And then you will see how that snowball will get rolling. Play around with the numbers. Even adding $10 will make a difference. It will get addicting and when you see that balance go down every month, you will find ways to add more money to your snowball.
Example: 
Student Loan 1: $750 balance at 6% with a $25 minimum payment
Credit Card 1: $1000 balance at 10% with a $65 minimum payment
Car Loan 1: $7500 balance at 5% with a $285 minimum payment
Car Loan 2: $10000 balance at 0% with a $370 minimum payment
So, in your first month of implementing this new debt snowball plan, you make all of your minimum payments and then anything left over you throw at that balance of the Student Loan 1. Once that debt is paid off, you take that $25 minimum payment (no, it is not extra FREE money every month to play with!) and add it to the $65 minimum payment on Credit Card 1. Then, and this is when it really gets fun, add anything extra to that debt. And when that is paid off, you tackle Car Loan 1. You can see how this can get rolling quickly. You will start doing anything (well, almost anything) to make extra money and get those debts paid off quickly. 
Undebt.it
Undebt.it is the best free site to keep track of debt and your snowball. You simply enter all of your debts, including due dates, interest rates, minimum payment amounts, etc. Then it calculates pay off dates for you! You can play around with the numbers and the order you pay off your debt and see if one way makes a difference over another way. This is a terrific way to not only keep track of all of your debts, but it gives you a ton of motivation in looking at those pay off dates. 3 years? 5 years? Really? I know I don't want to wait that long. So you add $10 or $20 to a payment and BAM! The dates change on everything! I love playing around with the numbers. I don't know about you, but I want to start living today!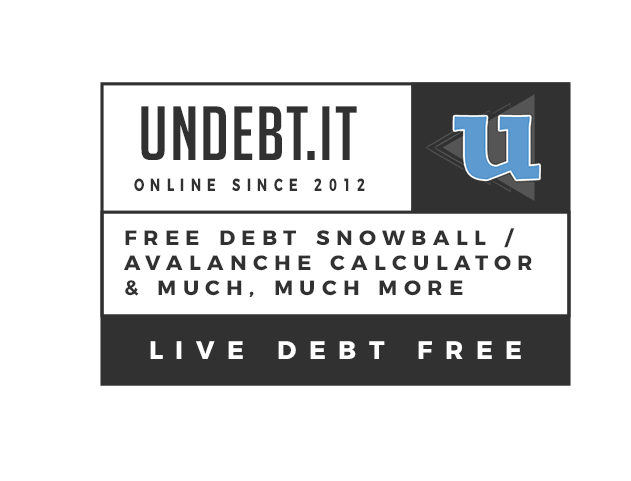 Once that small snowflake gets rolling, it turns into a snowball and keeps rolling down the debt hill, picking up more speed every month.
Paying off debt gets contagious. I keep looking for things to sell around my house. Dave says, "sell so much that the kids think they are next", I just love that saying!
Stop Creating New Debt
Oh, this is the one that gets many people! I can afford that, we can do that, let's go on that vacation, let's take that trip, buy that camper, car, etc. NO, if you are serious about getting rid of consumer debt, DO NOT take out another loan. Stop the thought process of I worked so hard to get this far, I deserve this one little thing. That one little thing turns into a few little things and then a big thing and so on and so forth. So start planning where every dollar goes and pay off that debt. Then you can give yourself permission to take that trip or buy that car, IN CASH! 
I get it, you need to do a little victory dance every now and then. So do I! And I do treat myself every once in a while. But, I do not add to our debt load (anymore). Just this week, I started selling household items like crazy. I made $155 in less than 24 hours! Most of that is going to debt, but a little bit is going towards something my daughter and I have been promising each other for months. 
But First!
BUT FIRST….you need to make sure you have an emergency fund in place so if an emergency pops up (and we all know that they do) you can use that emergency fund instead of adding to your debt. You can read about why you need an emergency fund here and how to build that emergency fund quickly.
Related Post: Why you NEED an Emergency Fund
Stay Committed
Stay committed. That is the biggest problem with most people, they are excited during the first few months, then the "wants" get to them and they use that credit card or use part of the extra snowball and BAM! Back to square one. I have done this many times and I am here to state, NO MORE! I am tired of the debt, aren't you?